Name
: Queenrissa aka Marissa
Age
: 31
Place of residence
: Bangor Maine
What are you trying to find?
Friends, possibly more
I'll admit I never quite know what to say in these 'describe yourself' posts. Where does one begin? Do you start with the obvious.... I'm a 31 year old woman who lives in Maine. Or do I try to label myself.... I'm a mother (my son is almost 8), a full time college student (2nd year, Anthropology major), bi-sexual (although I prefer women to men), a friend, a singer (karaoke baby!), a daughter and a co-worker. Maybe I give a list of my interests, in the vain hope someone else may look and say, "wow, I like that too!".
Alright then, a list of interests it is...
Scissor Sisters - my absolutely favorite band. Reading - mostly Harry Potter (both canon and fanfiction) and Brian Lumley (horror novelist) as well as books about Ancient Egypt. I enjoy swimming (which, living in Maine, is only available about 3 days in a 12 month period), watching BBC America (Monty Python, Little Britain, The Office, Torchwood, BBC World News, etc), horror and/or comedic movies and road trips. I have been on LJ for a few years now, and am also on
myspace
. For US programs, I watch CSI, House, Bones, The Office, Buffy The Vampire Slayer and Ghost Hunters.
Right. Now that
that
is out of the way, how about more about, well, me.
I'm a fairly quiet person at first, but I open up a bit more the more I speak with someone. I prefer to spend time with people who are not rude or crass, as that's not who I am. Honesty is important to me, as is someone who is stable. I don't smoke or do drugs, although I do drink alcohol on occasion. I guess I would recommend checking my myspace page, as I have a lot of information on there. Here's the link:
http://www.myspace.com/theladyrissa
I'm looking for friends and maybe, if someone is close, possibly more.
Lastly, here's a picture....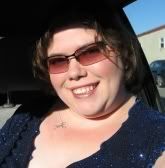 Email, Yahoo Msgr: theladyrissa@yahoo.com